John Wheatley 'Early history of the Bank of New South Wales including the opening of branches in Perth and Fremantle'
The history of the Bank of New South Wales "the Bank" mirrors the history of Australia. Prior to the commencement of the Bank in 1817, various types of money and money substitutes were in use in the Colony such as promissory notes, government bills, foreign coins and barter. Governor Lachlan Macquarie was keen to ban this currency and to provide an effective sterling substitute as a means of exchange.
A rule in the Bank's charter stipulated that banknotes to be issued by the Bank were: two shillings and sixpence, five shillings, ten shillings, one pound and five pounds. The Bank opened for business on 8th April 1817 and 100 ten shilling notes were issued.
The first years of the Bank were difficult and it had to seek government loans for its survival, which was made difficult by the depression in the 1840s. The discovery of gold in the 1850s was a godsend for the Bank and for the colony of New South Wales. The Bank prospered and rapidly expanded, and by 1861 it had grown from a single office in Sydney to a network of 37 branches.
In 1882 the Bank instructed Marinus Francis Alfred Canning (Alfred Canning) to go to Perth and explore business opportunities. As a result, he bought land at Perth, Fremantle and Bunbury. The Perth branch of the Bank was opened on 31st August 1883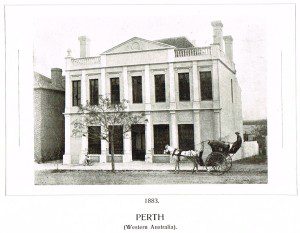 and the Fremantle branch followed in 1886.